Crazy Dave Promotional Products, Logo Branded Tech Gifts
We are a supplier of promotional products, corporate gifts and logo printed merchandise for business gifts and event giveaways.
A new addition to our range to satisfy the demands of getting the workforce up an running safely is our company branded face masks & and face coverings which also includes plain face masks at bulk prices.
For the best tech giveaways for 2022 see our collection of Events Ideas which are lower cost suggestions.
We are big fans of power banks and we have a stupendous selection.
Euro sourced products

We label products that are EU sourced with 🇪🇺.
Many of our products are sourced within the European Union but goods that originate outside of the EU could be despatched to you from the UK.
When you enquire Crazy Dave will tell you the shipping arrangements.
We show £ Sterling prices on our crazydavepromo.co.uk website.
We love promotional gadgets for use as tech giveaways and we are always thinking of new corporate gift ideas. As an expert Northern Ireland based promotional merchandise company we supply branded tech worldwide. (Never mind the "B" word).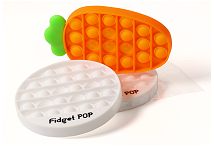 We have Pop-it Fidgets!
Be the first to put your logo onto Fidget Poppets to show your sense of fun. It's about time we had some fun isn't it? 😄
If you haven't heard, the Push Pop Bubble Fidget is the thing have fun with at the moment.
Is it sensory? Does it de-stress or help you concentrate? Does it matter? 😉