Promotional & Branded Webcam Covers & Webcam Blockers
Protect your privacy.
As creepy as it may seem it is possible that software can activate the webcam on your laptop or desktop computer without you noticing.
A promotional webcam cover is therefore a very welcome logo branded giveaway and what makes it particularly compelling as a promo item is that your brand name sits above the laptop or computer screen and is visible at all times.
As a promotional gift that provides a phonomenal combination of brand visibility and price.
Look up "facial expression recognition in advertising" on the internet and you can find articles about "How Emotion-Detection Technology Will Change Marketing". Enjoy the delicious irony that you can provide a gift that helps protect your clients from pernicious marketing yet uses your logo branded product to do so.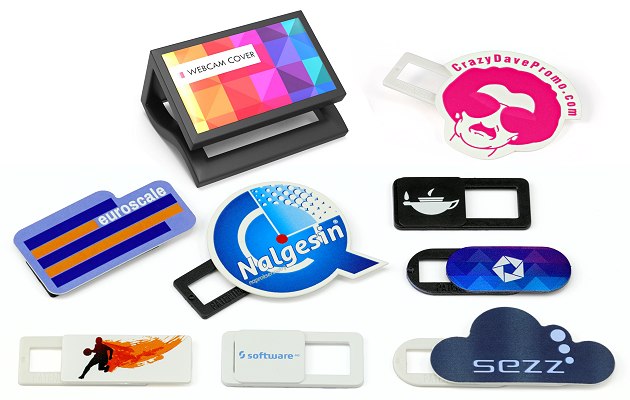 Promotional & branded webcam covers and blockers
Compare webcam covers and blockers
Eco Webcam Covers in PLA Bioplastic BP702

Made from polylactic acid (PLA) bioplastic derived from corn starch these webcam covers are logo printed on the front sliding door.

Rectangular Webcam Covers BP700

The most popular promotional webcam covers for laptops, computers and tablets in black or white with 15 x 14mm one colour logo printing on the webcam cover. Mounted on a full colour printed backing card of 85 x 55mm.

13-15 working days

3-5 working days express

Guide: 1000 webcam covers at €1.80 each

Minimum order 50

Clip-On Webcam Cover Screen Cleaner LX028

Low cost branded webcam covers with a large very attractive full colour print with doming that conveniently clips over the top of your laptop computer. The cover also has a screen cleaner built in.

5 working days delivery

Guide: 1000 at €1.25 each

Minimum order 100

Custom Webcam Covers Slide Bespoke Shape BF24

These custom webcam covers with a size and shape of your design will enhance your branding with full colour UV printing. These are slide computer and laptop camera covers mounted on a presentation card that can be custom printed for your promotions.

💶 EU sourced

Guide: Buy 3000 at €1.63 each

Minimum order 100

Full colour printed promotional gift webcam covers for laptops, computers and tablets. Packaged with a backing card optionally customised with logo printing. Four standard sizes round, square, rectangular, oval.

💶 EU sourced

Guide: Bulk order 3000 at €1.23 each

Minimum order 100

These logo branded webcam covers are full colour printed with UV printing on a black or white rectangular or oval plastic body with dimensions 30 x 13mm. Packaged with a backing card optionally customised with logo printing.

💶 EU sourced

Guide: Buy 3000 at €1.23 each

Minimum order 100

Smartphone Slide Camera Cover BF20

These promotional smartphone camera covers with customisable full colour UV printing are available in black or white in two sizes suitable for smaller devices like smartphones and tablets. Stick them over your mobile phone or tablet camera and slide the cover open or closed.

💶 EU sourced

Guide: Bulk order 3000 at €1.23 each

Minimum order 100

Branded Camera Blocker BF18

These are simple but very attractive branded camera blockers available as a flat or an epoxy dome sticker printed with a promotional logo or custom design. They are mounted on a presentation card that can be custom printed for your promotion.

💶 EU sourced

Guide: Buy 3000 at €0.30 each

Minimum order 100