Branded Power Banks & Portable Phone Chargers
Our massive range of promotional power banks extends from low cost giveaways for trade events to very classy high powered corporate gifts. The high quality power banks printed with a company logo can be used in-house for employees when you need to ensure they have a charging source when on the move.
Your company logo can be laser etched, full-colour printed or lit up with an LED backlight for a great branding effect.
Low minimum quantities of 50 is normal but some models are available with minimums of only 10 units with express delivery from UK stock.
The smallest is a 500mAh branded phone charger that easily slips into a pocket or handbag and that has an integrated lead for Apple and Android phones.
At the other end we have a massive 24000mAh portable charger which can be used as logo branded power banks for employees in the field or a meaningful corporate gift.
We have many section so here's a jump list: Wireless • Premium Quality • Express • Gift Sets • Custom Bespoke Shapes
The best branded merchandise is something the customer feels an attachment to and the reassurance of having a fully charged portable charger will be associated with your brand.
Our Best Selling Power Bank Giveaways
Power Bank Sections on this page
Compare Power Banks
Luxury Portable Chargers, Xoopar Lighting range
The famous Xoopar retail brand can be tailored with you own printed company logo. Instead of the illuminated Xoopar logo in these examples your own logo appears lit up with LED light. The Xoopar Squid power chargers have soft suckers to conveniently attach to mobile phones.
Hi-Colour Range
All the products in our Hi-Colour Range are available in these colours.

The Hi-Colour Range extends to a whole family of colour coordinated products so that you can choose a range of matching but varied promotional giveaways. That includes mobile charging accessories, audio products and gift sets combining many products together.
Express Power Banks including 24 Hour.
We stock plenty of these express items in the UK so we can print them and get them to you the very next business day (so long as you get your order in early enough subject to the courier being able to support next day delivery to your location). We ship globally.
Custom Power Banks with Bespoke Shapes
Custom means bespoke. Send us your shape and we'll turn it into a custom power bank.
What's your shape?
You can have any shape power bank charger that you like. We show three popular 2 dimensional styles in the shape of a human that can represent your staff who provide a service, a lorry to symbolise your business activity or the shape of your business logo.
The ultimate is to have a 3 dimensional power bank design like the airplane example. Being unique gives you branding without compromise.
Promotional Wireless Power Banks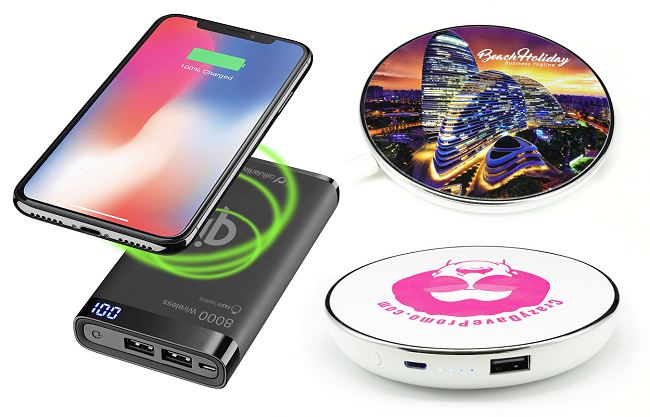 Branded Wireless Power Banks
Power banks that include a QI wireless charger are wireless power banks and that makes for a pretty exclusive gift. The convenience of being able to charge a mobile phone remotely and without any wires is uncompromising.
QI chargers are themselves pretty as promotional items for the best customers, clients and prospects and power banks are very popular. Combine the two and you have a very special logo branded product.
Some of our wireless power banks light up to display your company logo to make a powerful statement.
On each product page we show prices so that you can appreciate that these branded gifts are something special and many of these are top quality high-end products from our designer ranges including Cellularline.
Our prices are for guidance since prices fluctuate so please always ask for a quote using the form on each product page. Maybe prices have fallen since we updated our web pages.
The round BP2157 is the lowest cost QI power bank and it lights up to display your logo and design in full colour. It is available in four power ranges from 2000mAh to 5000mAh.
All of these wireless power banks contain lithium polymer power cells ranging up to 8000mAh.
Power Bank Gift Sets, 12 to 15 Working Days with 7 Working Day Express Option
Power Bank Gift Sets with a 7 day lead time.