Promotional USB Multi Charging Cables & USB Chargers.
The most popular promotional charging cables are the multi-connector type since they are useful for all of the latest mobile phones so you don't need to worry about if your customers have iPhone or Samsung mobiles.
Our PIP05 is amongst our best selling universal branded charging cables with its attractive resin dome decal for logo branding. It connects a USB charging source to iPhone Lightning, USB C for Samsung and Micro-USB.
Click to see USB Chargers for desktop, mains and in-car USB chargers.
Logos that light up
Many multi cables have the very attractive feature of lighting up your logo when connected to a USB power source.
The 6 in 1 multi cable BP026 and the DT318 Octopus Cable are popular examples and the BU019 4-in-1 is a thing of beauty with its braided cord.
Custom bespoke shapes
The MK026 is a custom device charger cable with your own bespoke design mold which really stands out in the crowd.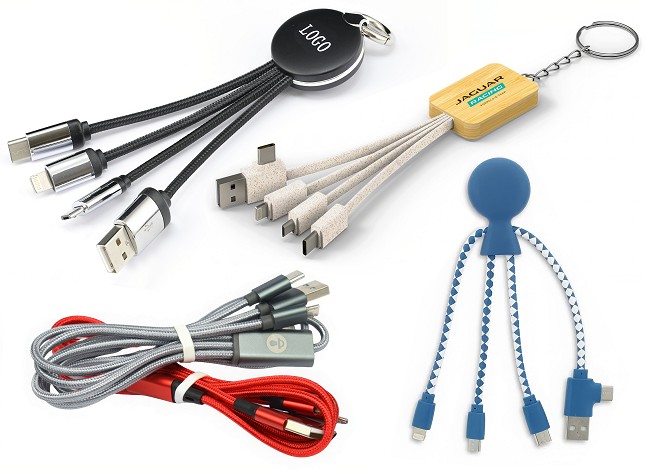 Promotional Charging Cables
Branded Device Charging Cables
Executive Top Quality
Related sections with allied products
Promotional USB Chargers
Branded USB chargers are logo printed for promotional and branded gifts and the wall chargers plug into the mains sockets with UK or Continental plugs to provide multiple USB outputs for charging devices and equipment. Alternatively desktop USB charging stations are popular for the workspace.
We also have custom USB chargers for in-car use and they make a great low cost promotional giveaway.
Prices includes 1 colour solid print as standard on one position. Some chargers can be full colour branded using UV printing.