Custom Mobile Phone Finger Holder BF08 💶
Email yourself this one for later including the Piccy.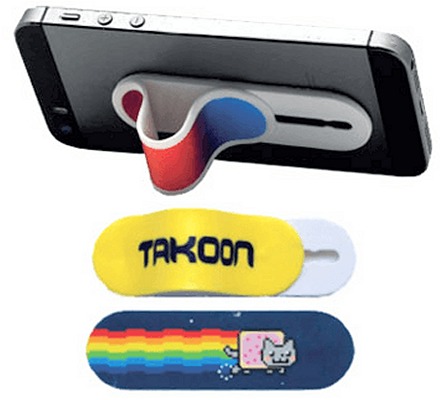 Custom Mobile Phone Finger Holder
Phone finger holder bulk prices.
100
300
500
1000
2000
3000
€2.12
€1.99
€1.85
€1.78
€1.75
€1.71
Price includes single spot (solid print) colour logo print in one position. Delivery & VAT extra.
It's easy to get a quote for todays price for your own quantity and customisation. We'd love to hear from you.
How many do you want?
When do you need them?
What's today's price?
No tracking. This uses your own email privately. No fussy forms to fill in - we keep it simple.
Flexi holder is a universal mobile finger holder which can be also function as a stand. The glue used for attaching the holder to the phone is very strong and, what is more important, does not leave any marks or stains on the surface.
| | |
| --- | --- |
| Product Code: | BF08 |
| Logo print style: | CMYK Print |
| Dimensions: | 80 x 25mm |
| Lead time: | 10 working days |
| Minimum Order: | 100 pieces |

Part of our Events Gifts Selection
Many of our products appear in our Event Giveaways section geared towards lower cost items that you can buy in bulk.