Promotional Bluetooth Speakers Make Great Branded Gifts.
Bluetooth speakers that are logo printed with your corporate branding are highly prized as promotional gifts for your more meaningful prospects who are worth the little extra. Yet some are surprisingly cheap enough for branded giveaways.
Bluetooth speaker branding.
The differing shape and sizes of speakers gives a wide range of branding opportunities using printing or engraving in a restrained but sophisticated style or a dramatic full colour print over the full surface of the side of a cube for example.
Also look out for the speakers which illuminate your logo with LEDs light when in use or charging.
Power bank Speakers.
Since Bluetooth speakers contain their own rechargeable battery some come equipped with circuitry to turn them into power banks for charging you own remote devices. These tend to have a higher charge capacity so the play time and music output power is impressive.
We have some high quality items that make rewarding corporate gifts that are bound to impress.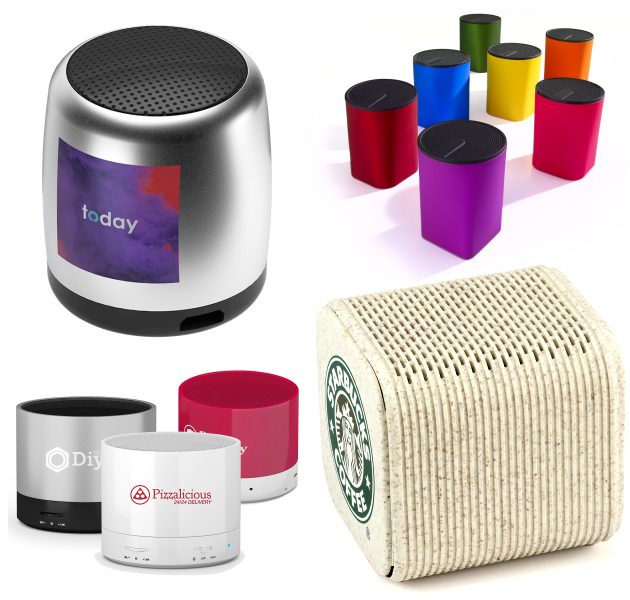 Branded Bluetooth Speakers
Branded Bluetooth Speakers are Quality Promotional Gifts
Wired (non-Bluetooth) Logo Printed Speakers
A closer look
What is Bluetooth?
Bluetooth is radio communication that enables electronic devices connect over a short range of up to ten metres. It is a system that has undergone development since 1994.
Bluetooth includes the protocol (communication rules) which is the method for devices to agree to communicate with each other and for devices like mobile phones and speakers that is called pairing. You pair up devices and they remember the connection and communicate back and forth with commands and data. For wireless speakers that data is music and audio.
How do Bluetooth Speakers work?
When a Bluetooth speaker is paired to a device a link is set up and the data that is transferred is music in a compressed format similar to the MP3 format.
The speaker takes the music data, expands chunks of it into a continual stream which it puts through a digital-to-analogue converter to make an audio signal. It then amplifies the signal enough to drive the speaker which pumps out the music. The amplifier is designed to boost the parts of the audio spectrum so that a small speaker can sound as much as possible like a larger one. That's what makes most Bluetooth speakers sound surprisingly good for their compact size.
Stereo Bluetooth speakers
Most commonly one Bluetooth speaker is paired up with a device and the music that is streamed is encoded as stereo left and right channels but it is combined into a mono signal for the single speaker.
For a stereo bluetooth speaker the left and right music channels are kept separate and fed to a pair of digital-to-analogue converters so that two speakers can be driven. Usually the left and right speakers are built into one speaker unit with little separation between them and the stereo effect is more noticeable when you are near to the speaker but even at a distance you are aware of a richer sound quality.
A full stereo effect can be enjoyed with a separated stereo pair of Bluetooth speakers. That is not the same as pairing your device with two speakers. If you do that then you simply increase the sources of a mono sound. With a stereo pair of speakers you pair up your device with one speaker and it autonomously sets up its own Bluetooth link with the other speaker and beams the other stereo channel to it. That way you have true stereo sound.
Small and perfectly formed Bluetooth speakers for promotional gifts
We'll happily supply you Bluetooth speakers in bulk with your logo printed on them so you can give them to whom you please so they are ideal for promotional gifts where fun is of the essence.
The technology involved is pretty sophisticated and that is reflected in the price but of course a higher price gift says your business relationship is more meaningful. As manufacturers vie against each other the prices will fall and you can be sure that Crazy dave has his finger on the pulse and is always keen to get you the best price for the maximum quantity for your budget.