Eco-friendly Promotional Products
There is a massive move for promotional gifts to use sustainable eco friendly materials such as wood, bamboo and bioplastics derived from non-fossil fuel renewable sources.
This could mean that if you are not seen to be caring for the planet you are going to be compared with those who do care.
With suppliers gearing up to produce branded merchandise made with plant derived bioplastics we will see prices fall and fossil fuel derived products will become less desirable especially for swag giveaways. It's definitely the time to be showing your eco credentials.
If you suspect plastic will become demonised in the near term then you could be thinking of bioplastic products as well as natural materials such as bamboo, wood and paper which are sustainably sourced.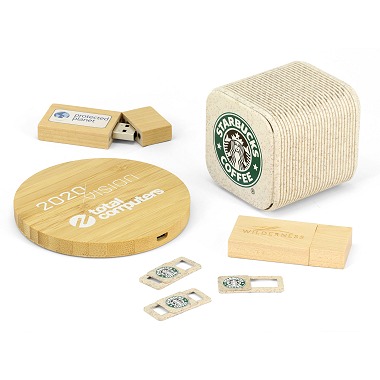 Eco-friendly Promotional Products
Eco Friendly Merchandise Ideas
Eco Cork Customised Wireless Charger BU45

Made from FSC certified cork that can be customised with engraving, pad print or full colour print over an area 80mm diameter.

3-4 weeks.

Minimum order 100

Printed Eco Biodegradable Sports Bottle 500ml FE16

These logo printed eco sports bottles made with 100% BPA free low density polyethylene that will biodegrade in active landfill between three and five years. UK made and UK stock, 100% BPA Free LDPE.

Standard delivery: 10 days

Express: UK stock from 3 days

Minimum order 50

Branded Eco Sports Bottle 750ml FE18

Made with a biodegradable version of 100% BPA free LDPE with a translucent body and a wide range of coloured tops comprising a push-pull spout with dust cap or a flip top lid. UK made and UK stock.

Standard delivery: 10 days

Express: UK stock from 3 days

Minimum order 50

Plant Fibre Bluetooth Speaker (Rock) CBN504F

A high quality tech promotional product with a body made with plant fiber and anodised dark silver aluminium. Logo branding in three positions in pad print, laser engrave or decal transfer. We'll optionally print your brand on the cardboard box.
Wood, Bamboo & Eco USB Drives
Cardboard USB Flash Drive MKE019

The device is inserted into a corrugated cardboard rectangle with a thickness of just over half a centimetre. It's the same material as used for packaging: flat paper alternating with corrugated paper, linked together by natural adhesives.

💶 EU sourced

Branding: Silk-screen, CMYK colour.

Minimum Order 100

Recycled Plastic ECO USB Business Card MKE015

Made of recycled plastic this credit card sized USB drive is smooth and ultra slim at only 2mm thick. Full surface printed on both sides it is equipped with a detachable connector that comes out from the side.

💶 EU sourced

Silk-screen, CMYK colour.

Minimum Order 50

Compact Wood or Bamboo USB Stick MKE102

💶 EU sourced

Silk-screen Printing, Embossing

Minimum Order 50
Cotton Tote Bags
Eco Materials in Promotional Merchandise
The materials used for promotional giveaways and branded gifts have an environmental impact and carbon footprint. It's difficult to unravel the variation but here's a summary to guide you.
We look into the various materials used in our logo branded products so you can get a feel for the choices you make.
The new PLA material, wheat derived products.
PLA is polylactic acid which is a bioplastic derived from renewable raw materials such as corn starch and it's fully biodegradable. Commonly plastics are derived from the petrochemical industry as a byproduct of fossil fuels.
rPET recycled plastic
RPET is recycled polyethylene tetraphyte. Although that is an oil derived product since you are using it recycled you are preventing a plastic from going into landfill by giving it a new lease of life.
Most often the source of the PET is plastic bottles which are ground into flakes and re-melted and that uses about 50% of the energy than it takes to produce the original product. According to Prevent Ocean Plastics anything made from PET can be replaced with rPET and it can transformed into new products again and again.
Bamboo, the Versatile Powergrass.
Bamboo looks like wood but it is actually a grass that grows very rapidly so it has a wonderfully sustainable image.
The stems are hollow and very strong and can be fashioned into a wide variety of logo branded products for you to use for your own promotions that show you are enviromentally concious.
Known for its use in furniture, textiles, flooring and ceilings we have assembled a collection trendy sustainable bamboo products making tasteful use of this marvellous material.